Commercial Plumber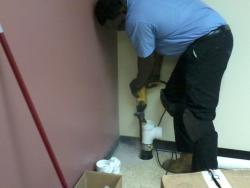 As a business owner, your days are already overextended with meetings, memos, and management duties galore. That's why there's no space on the schedule for malfunctions in your building's plumbing system. If you're facing small plumbing issues such as leaking pipes, backed-up sinks, or any other troublesome plumbing problems at your Columbus-area business, call in the commercial plumbers from J. A. M. Plumbing & Drains LLC. Dedicated to impeccable workmanship and superior customer care, we're the commercial plumbing service you'll want to bring on board.
No matter what kind of plumbing repairs have been adding to your headaches at work, J. A. M. Plumbing & Drains is the perfect remedy for your ailments. As master plumbers with nearly two decades of experience in commercial work, we go above and beyond to troubleshoot and address just about any issue affecting the efficiency or condition of your workplace. Matters of health and safety are particularly important in a business setting, and you can count on our commercial plumbers for a wide range of small repair and installation services, including:
Drain repair and cleaning
Sink, toilet, and faucet repair
Sewer line installation and repair
Natural gas line repairs
Leak detection services
Pipe repair and replacement
Water main break repair
Water heater service
Appliance installation
Sump pump repairs
And more!
With J. A. M. Plumbing & Drains on the job, you'll never have to micromanage the details of your plumbing repair service. Just tell us what you need done and let our commercial plumbing contractors take care of the rest. Whether you'd like a new tankless water heater to save on energy costs or you're tired of faucets that keep dripping and wasting water, we have the tools and training to help. We can even get you signed up for a convenient maintenance contract, so you can keep your systems running smoothly year round and save on commercial plumbing service from one season to the next.
Anyway you look at it, J. A. M. Plumbing & Drains is a boon for your business. Fully licensed, bonded, and insured, we're pleased to provide a wide range of plumbing services for commercial customers all across the Columbus metro area and neighboring communities. Call or e-mail us today to make an appointment with one of our courteous commercial plumbers. All of our work is guaranteed for your complete satisfaction!
Plumbing Services
Plumbing Service
Plumbing Company