Pipe Repairs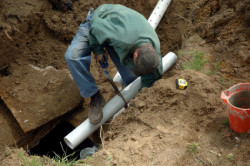 Pipe leaks can happen anywhere, anytime, regardless of the age or general condition of your plumbing system. A leaking pipe is not something to be taken lightly. Even the tiniest of cracks or holes can cause significant functional and aesthetic damage to both your pipes and your building's interior if not addressed immediately. If you suspect a pipe leak in your home or business, don't hesitate to call J. A. M. Plumbing & Drains LLC. Our pipe repair specialists will work diligently to bring you swift and comprehensive relief from all your leaking pipe troubles.
When you choose J. A. M. Plumbing & Drains for your residential (or small commercial) pipe repair, you're getting the advantage of licensed professionals who are sticklers for quality workmanship. In fact, our highly trained team will begin by conducting a thorough inspection to determine possible causes of your pipe leaks, such as:
Intrusive roots
Damage from persistent blockages
Major temperature fluctuations
Improper plumbing installation
Previous repair attempts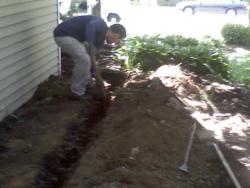 If necessary, J. A. M. Plumbing & Drains will use the latest in pipe repair detection technology to ensure you receive a complete and accurate picture of your leaking pipe. Once we've identified the cause and source of the problem, we'll then put our 18 years of hands-on experience to work in order to execute the best strategy for a watertight pipe repair.
Oftentimes, leaking pipe issues are hidden behind walls or under floors so it's difficult to see where the problem actually starts. However, it's hard to miss the telltale signs that could indicate the need for professional pipe repair, including:
Unusually high water bills
Meter running even when water is off
Decreased water pressure
Discoloration on walls
Audible dripping or other water sounds
J. A. M. Plumbing & Drains is able to repair virtually any leaking pipe, regardless of the severity or extent of damage. Since time is of the essence when dealing with a pipe repair, we offer emergency service seven days a week in addition to our normal business hours. To ensure timely action for your pipe repair, contact us today over the phone or online.
Water Main Break Repair
Speaking of timely attention to pipe repairs, J. A. M. Plumbing & Drains is also available to provide service for a broken water main. If your home or business is facing a deluge or loss of plumbing services due to a water main break, we're only a phone call away to help. In addition to a master plumber license, our local, family-owned company holds all of the requisite permits for proper water line repair or replacement, including a water line license and a license from the Department of Transportation. We can also install water mains for new residential construction and small-scale commercial builds. Call today to learn more about our water main break repair or installation services.
water pipe repair
leaky pipe repair
pipe repair
drain pipe repair