Residential Plumber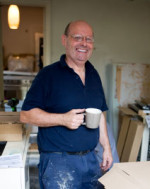 Every time you turn on a faucet, start up an appliance, or enjoy a hot, steamy shower, you're coming face-to-face with the marvels of indoor plumbing. Yet it's not so marvelous when those day-to-day conveniences you've come to count on are no longer working as planned. If the efficiency of your home plumbing system has recently hit a bump, or you're interested in making improvements to your existing facilities, don't let mechanical difficulties stand in your way. Just call or e-mail J. A. M. Plumbing & Drains LLC for the first-rate residential plumbing service you require. As a licensed master plumber business based right here in Columbus, we can keep all your household water and drainage systems running without a hitch.
There's a reason plumbers in the home service profession should be licensed: It's one indication that the person you're about to hire has the training to do the work. At J. A. M. Plumbing & Drains, we take that professional preparation to the highest level with our master plumber certification and 18 years of actual on-the-job experience. Our expert residential plumber services include:
Drain and sewer cleaning
Faucet repair and installation
Pipe repair and replacement
Water heater installation and repair
Plumbing for new construction
Kitchen and bathroom hook ups
Gas line repair and installation
Sump pump repairs
Leak detection
Appliance installation
And more!
From toilets that won't stop running to sewers that need replacing, no job is ever too small or too complex for our dedicated plumbing company. Since 2002, we've helped countless homeowners in the Columbus region with residential plumber services of all sizes and severities. For your added assurance, J. A. M. Plumbing & Drains is certified for both water line and gas line installation, as well as licensed by the Department of Transportation for plumbing contractor services. We also stand behind the quality of our residential plumbing service with a complete satisfaction guarantee.  
Need help for a plumbing emergency? J. A. M. Plumbing & Drains is here! With emergency residential plumbing service every day of the week, we're here whenever you need us for burst pipes, leaking gas lines, backed-up sewers, and more. Of course, there's never a good time for plumbing problems to strike, but at least we can come to the rescue at those times when you need us most. For master plumbers in a hurry, contact us today by phone or e-mail! 
Plumbing Contractors
Plumbers