Sewer Repair
A sewer system that drains and functions properly is critical to the plumbing infrastructure of every habitable building. From toilets and showers to dishwashers and washing machines, almost every modern convenience in our homes and businesses is reliant on the effective performance of our sewers. As a local, family-owned plumbing company, J. A. M. Plumbing & Drains LLC understands how important a fully operational water main and sewer system are to your everyday water usage and sanitary waste disposal. If you're having trouble with drainage, backups, or other sewer repair issues, give us a call right away. When you need punctual, professional sewer repair, we won't let you down.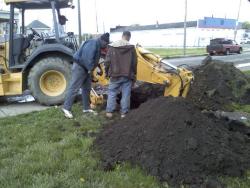 With 18 years in residential plumbing service, J. A. M. Plumbing & Drains has the necessary know-how to address a full range of sewer line repair matters. Some indications that you may need professional sewer repair include:
Strong odors
Cracks in foundation
Sinking floors
Sinkholes on property
Water stains on basement drains or walls
Backed-up sewer drains
When it comes to sewer line repair, calling a qualified plumbing contractor for prompt assistance is crucial to keeping property damage from escalating further. Whether you have roots in sewer line pipes or you need a sewer inspection, you can rely on the seasoned professionals at J. A. M. Plumbing & Drains for not only a quick response, but exceptional service as well. We specialize in sewer repair for both homes and businesses, and we offer emergency service seven days a week for your most urgent situations.
One call to J. A. M. Plumbing & Drains is all it takes to secure the services of our master plumber team. We'll begin your sewer repair by conducting a thorough sewer inspection to clarify the cause of the problem. Then, once our sewer cameras have located the origin of the issue, we'll draw from our vast wealth of strategic experience to customize a plan for putting your sewer line repair in motion. We guarantee all of our professional plumbing services, including sewer repair, so you'll never have to worry about anything going astray. To ensure that you receive absolute satisfaction and long-lasting results, we'll work efficiently and precisely to accomplish your sewer repair.
If you own a home or business in the Columbus area, don't trust your sewer repair to anyone but J. A. M. Plumbing & Drains. We're not just licensed, bonded, and insured to provide your sewer line repair, but we have 18 years in the trenches to boot! 
sewer line repair
sewer pipe repair
repair sewer line