Water Heater Repair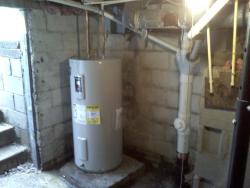 Hot water is one of those wonderful luxuries that most people don't think about until it's no longer available. From washing clothes and dishes to taking comfortable showers, the everyday tasks we take for granted become much more unpleasant the second our hot water heaters stop working. If you're tired of having to wash your hands in frigid water or cut your showers short because of a broken water heater, get in touch with J. A. M. Plumbing & Drains LLC as soon as possible. We provide professional water heater repair for home- and business owners in Columbus and all around Ohio's Capital Region. Simply call or e-mail us today to get your hot water heater working again!
As a family-owned business, J. A. M. Plumbing & Drains understands how even one day without hot water can be one day too many. That's why we strive to deliver water heater repair services that are always effective and efficient. Our skilled technicians have the training and experience to rectify a wide variety of hot water heater malfunctions. In most cases, we can easily repair leaks, assess temperature issues, and deal with any other performance glitches you might be having with your water heaters. Some of the common symptoms we can address are:
No hot water
Cloudy water
Leaks
Strange noises
Limited supply of hot water
At J. A. M. Plumbing & Drains, we offer water heater repair services for both reservoir and tankless models, so you can rest assured that we have your needs covered no matter what type of hot water heater you own. With a track record of success spanning 18 years, we're the plumbing company you can trust to handle even the most complex problems with water heaters.
Water Heater Installation
In addition to repairing hot water heaters, J. A. M. Plumbing & Drains also provides timely and dependable water heater installation. Sometimes, even the best repairs are not enough to keep a water heater going and avoid having to spring for a replacement unit. If this is the situation you're faced with, either at home or at your business, or you simply want to upgrade to a more energy-efficient water heater, don't hesitate to contact our master plumber service. We'll make certain your water heater replacement is installed with complete precision, and for your ultimate convenience, we can even provide the new unit for you and save you a trip to the store.
Water Heater
Hot Water Heater
Water Heater Repair
Tankless Water Heater
Water Heater Installation
Water Heater Service